Webinar
Thursday, 11th November, 2021 4.00-5.00 pm AEDT
This webinar is the eleventh in a series which is developing greater knowledge and understanding of the Convention on the Rights of the Child (CRC).
The UN Committee on the Rights of the Child expressed concern at the increase in child removals in Australia and the inconsistent criteria for removals across different state/territory jurisdictions. It highlighted the disproportionate rate of removals of children from First Nations' families and made a number of recommendations on these concerns. These concerns have been raised by an increasing number of organisations and individuals in Australia.
This webinar will look at this issue from the perspective of Elizabeth Morgan House in Victoria, a front-line service provider responding to the failure of governments to apply a child rights-based approach, and the harmful consequences for First Nations children and families. It will challenge the misuse of the "best interests of the child" and "welfare" principles in existing policy approaches.
In drawing on the experiences of Elizabeth Morgan House, and developing understanding of CRC's definition of "best-interests of the child", the webinar will emphasise how the CRC demands changes in current approaches. It will emphasise the need for Australian governments to implement the CRC Committee's recommendations and properly fund solutions led by the Aboriginal community-controlled child and family organisations.
---
Speakers
Kellyanne Andy, CEO Elizabeth Morgan House
Monica Morgan, Board member, Elizabeth Morgan House and CEO, Yorta Yorta Nation Aboriginal Corporation

---
Moderated by
Dr Noam Peleg, Senior Lecturer UNSW, Book Review Editor, The International Journal of Children's Rights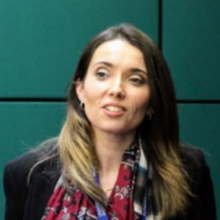 Dr Faith Gordon, Senior Lecturer ANU, Director of the International Youth Justice Network
---
NOTE: At least half an hour will be allocated for questions and answers, and comments
This webinar received support from the Embassy of Switzerland in Australia.